Scotty Hicks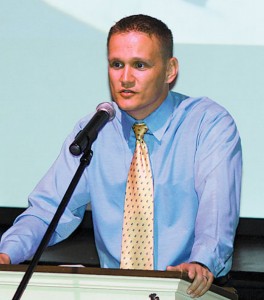 (Links to news articles)
Scotty has served our country in two battlefronts, Operation Iraqi Freedom and the classroom (even having his son born while he was on active duty). Within his teaching career, he has received the P.T.A. National Lifetime Achievement Award (2006), was selected as the WBIR-TV Educator of the Week (2009) and the V.F.W. Tennessee Teacher of the Year (2011).  He has been chosen as a U.S. House of Representatives House Fellow (2009) and a Horace Mann Abraham Lincoln Fellow (2011).  His own children recently placed 1st  (for the 6th year in a row!) in the "Smartest, cutest, and most likely to rule the world" contest staged annually in his home by their mother.
Rob Kuban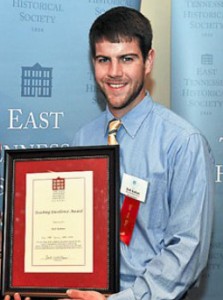 (Links to news articles)
Rob has been selected as the Tennessee Council for the Social Studies Middle School Teacher of the Year (2010), East Tennessee Historical Society Teacher of the Year (2009), and Outstanding Teacher of American History by the Daughters of the American Revolution historical society (2012).  His students have won national recognition for their work in the Junior American Citizen's contest and regional recognition in the VFW's Patriot's Pen Essay contest.   He is also the founder and current president of the educational alliance T.A.E.C.P. (Teachers Against Empty Coffee Pots).
http://youtu.be/VV_MGoJT308
Check out an interview we did on the award winning Phil Williams Show!